---
Steering Box Refurbishment Kit No.2
£8.50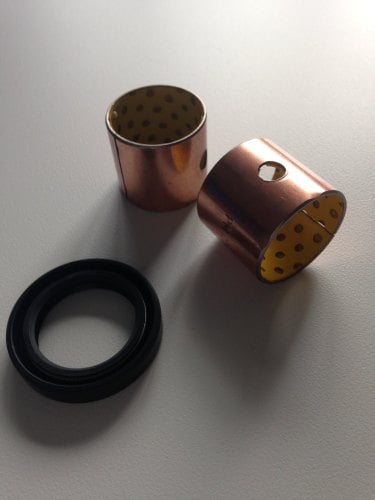 A common cause for play in the steering box can be taken up by replacing these peg shaft bushes. Be sure to have eliminated all other components that can cause poor steering, track rod link ends, idler pin etc.
Special tools required
Pullers - to remove steering wheel, and pitman arm
Reamer - H11 adjustable or 1" straight fluted hand reamer
1. Remove the steering box, stripdown and drift out the original bushes.

2. Press in the new bushes.

3. Ream out (if using adjustable H11 reamer, gradually increase the size of the reamer with each pass until the shaft can be pushed in by hand) The shaft should be tight, yet able to be rotated by hand.

To see a slideshow detailing this work,
click here